Published October 16th, 2012
Published October 16th, 2012
The Sadness of Animals, my first full-length collection, is virtually a 'Collected, with omissions' – or, in the traditional formula, 'all that I wish to preserve' (though of course there are things that I have preserved elsewhere in the hope of getting them right one day). It contains 56 poems of which 22 have already appeared in my three previous pamphlets, which are reprinted in their entirety (bar Riccardo Held and Monica Pavani's excellent Italian translations from the parallel text After Fra Angelico e altre poesie). All but two or three of the remaining 34 poems are new, that is to say written since Here's to the Home Country (2010).
Country (2010)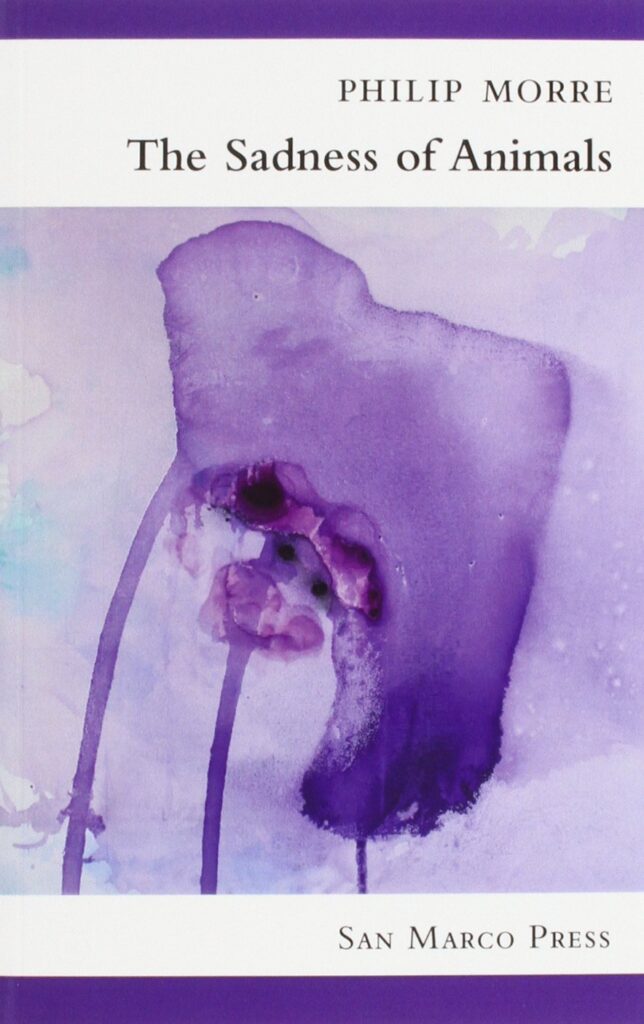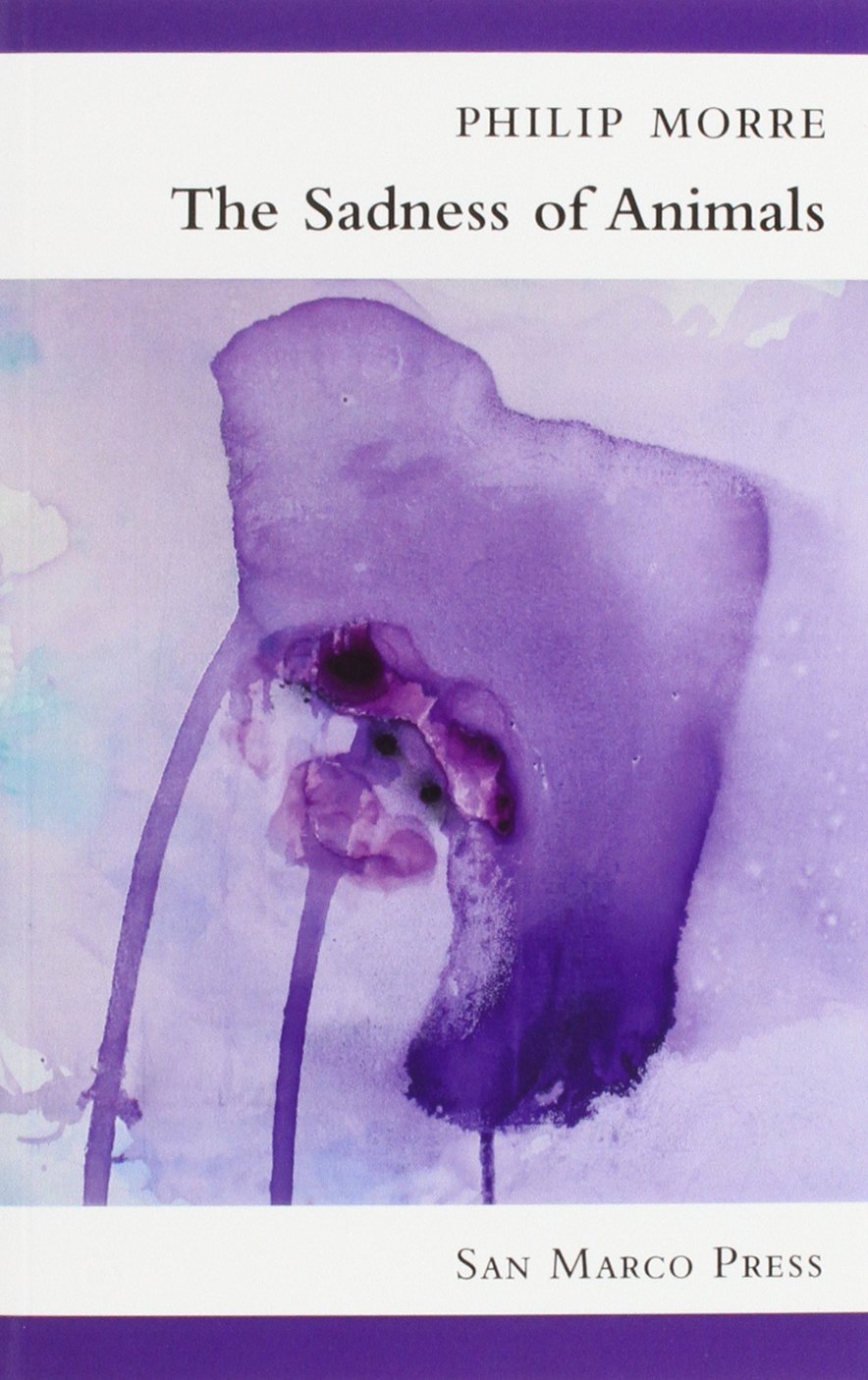 The Sadness of Animals
Surely we imagine the sadness of animals:
the hangdog dog in the piazza less likely
in mourning for a late selfish mistress
than concerned who will look to his dish,
or at his age whether sex is history.


And the saddled stallion's faraway eyes
are not seeking that track through the hills
to rampant savannah where, carefree,
his sisters cavort in cabals. He can just see
(and then vaguely) the roofs of the stables.

But once off Waisai and its soft-coral reef
a gloomy medusa, draped purple and pink
on the current as if tossed on a chair-back,
loomed over us, barely in motion.

For that instant, though we knew it a
rubbery insensate processor of plankton,
it assumed all the sorrows of the ocean,
in a glassy precipitation of grief.


I swear that the tears fogged our masks.
This morning the colt jumped the whitewashed
rail. And the dog? Oh, the dog still mopes
in the piazza – who can say if he weeps?
A Couple of Reviews
​
From The Poetry Review
(shared with two Australians – Chris Wallace-Crabbe and Chris Andrews)
​
Philip Morre's The Sadness of Animals, although a first collection, is a kind of Selected in itself, consisting of three short pamphlets, some translations, five occasional poems and a batch of new work. Readers who demand narrative arc or thematic unity may feel disappointed but I don't see any reason why a poetry book can't simply be a 'best of…'. Not everything succeeds. 'Fond Adieu' hangs limply on a final line twist and the house-clearing/moving on metaphor in 'Old Shoes' feels much too familiar, but the majority of poems are worth careful attention, including lively translations of Philippe Jacottet, Giorgio Caproni and a splendid Montale poem. A preoccupation with time, loss and an irretrievable past is evident, as is intelligent use of form, rhyme and structure.
A glance in the mirror at an aging body initiates a flight of memory to the "awkward angular boy" returning from a fishing expedition in 'Brave Day'. Each of four stanzas represents a shift in the poem's narrative from shock and despair at the present to an idealised past, reminiscent of a Hovis advert, to a double-edged conclusion:


​Oh poisoned world,
where bread was bread, and live frogs
ten to the sovereign, for pike bait.


​Morre's images hint and interact more than declare. Boy conscripts watching homebound trains and Hemingway staring hungrily into Paris bakery windows in 'Sometimes I dial' become fingers which "drift to the wound…" and segue into "Sometimes I dial the first digits of your number/ knowing your husband's in. Your nightdress/ hangs on the towel-rail". An unspoken narrative backgrounds itself in this well-paced poem and progresses from an attraction to a source of hurt (fingers to wound) to a more complex set of emotions stemming from a broken relationship. Morre may, like the mule in his poem 'Onager', have his "bum to the zeitgeist", but this collection deserves to outlive it.
​
Rob A Mackenzie 
From The Bow-Wow Shop
​
'Tall Glasses Clinking With Ice Cubes'
​
One has to welcome a poet who prefaces his first full-length collection with "It's only words – Barry Gibb after Mallarmé." It's an acknowledgment of both of the Janus faces of poetry, the need for a singing contemporary line and "the intolerable wrestle with words and meanings", although Morre makes it a matter of fencing with foils rather than sweaty person-on-person grunting. His is a poetry to be read under my apricot trees with "tall glasses clinking / with ice cubes" as he writes in 'Happy Hour'. I wouldn't take the likes of Jorie Graham there.
The Sadness of Animals is a large collection of ninety pages, although its readability makes it seem shorter, and it is made up of an opening section of uncollected poems, occasional poems resulting from a meeting of writers where texts were written to prescribed themes, translations, and poems from three pamphlets of his work. Despite these divisions, there is a unity of tone over a range of themes ranging from poems about his family, to European adventures either real or made up. The poems have a surface dazzle, but are never frivolous, with moods various as weather, sometimes a scorching satire, often meditative and autumnal, occasionally grief mediated through elegiac forms. And, dammit, the poet lives in Venice.
The first part has a mixture of poems whose occasions are either personal or literary and artistic. The irony directed at Ernest Hemingway posing on a duck shoot "with the grappa / in a dapper holdall" is feline in its precision. The first three poems preceding this are equally elegant in their organisation of language, line and mimesis, as in the sibilance of the fourth stanza of the title poem where a medusa jellyfish floats into Morre's scuba-diving view:
​
"For that instant though we knew it a
rubbery insensate processor of plankton,
it assumed all the sorrows of the ocean,
in a glassy precipitation of grief."
​
That fourth line is very fine.
The next poem, 'Suburban Perseids', a personal favourite of the reviewer's, contrasts the bizarre behaviour of a young neighbouring couple with his own sedate behaviour. They drink miniature liqueurs and throw the empties from their balcony. There is no comment on their behaviour, but the whole poem is built round images of light with the central image of the miniatures as shooting stars. The closing two and half lines clinch a poem which has taken a trivial incident and made it a notable addition to the theme of the contrast between youthful irresponsibility and sober middle-age:
​
"and a thin sun
illumined our kempt lawn,
iridescent with miniatures."
​
The 'Occasional Poems and Translations, Mistranslations' sections are all of a piece in tone with Morre's original poems. 'The Sweet Kingdom' and 'Home is Where I Hang my Hat' are respectively equal to James Fenton and Kit Wright at their brilliant witty best:
​
"Home is where we await the hearse
a glass of wine, a book of verse:
many waiting rooms are worse.
Home is where we await the hearse."
​
Morre's versions of Philippe Jacottet led me to re-read a poet whose translations by Derek Mahon I've found somewhat dour, and in the first of the sections with poems taken from pamphlets, 'Fond Adieu's dismissive scorn might make the Roman poet Martial envious. The poems hangs on the conditional "would", beginning:
​
"I would like to tell you the cypresses
Grow a little taller round your plot,"
​
and going on to list a set of possible agreeable remembrances until the clinching finale
​
"that you're missed …
only you always set, or said you set,
such store by the truth."
​
The quality of the poems never falters in this excellent collection, which concludes with an Epicurean postscript in the philosophical, not popular, sense that death is the end of both the soul and the body, and therefore should not be feared:
"Once your crib
nudged theirs from the nursery: they went
with fair grace. Now it's you. Be content."
James Sutherland-Smith